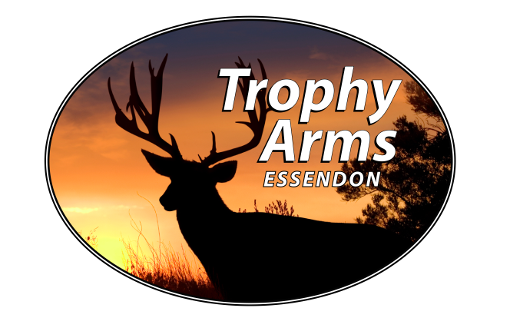 Subscribe to our Newsletter to receive news on product promotions.

Checkout our latest firearm listings on Oz Guns
All firearms need to be purchase from our physical store with a valid firearm license. Please browse our store by clicking on the button above.
Checkout our latest sale items.
Trophyrms Essenden located at 1130b Mt Alexander Road, Essenden in what was originally known as Bob Reid's sports store for over 50 years is family owned and operated Victorian-based firearms dealer who specialises in the supply of quality new and pre-owned firearms, ammunition clothing and associated  outdoor sporting equipment for our customers.
We mainly supply new & used top quality European shotguns and rifles as well as optics and all associated accessories to complement the recreational or competitive shooting enthusiast and being keen hunter's shooters and collectors we can provide invaluable knowledge and advice so you can make not just the right decision but an informed decision.
We currently stock from Verny Carron the innovative and accurate impact La pumps, bolt action take down rifles and premium side by side big game double rifles as well as the new and highly innovative Strasser Rso5 strait pull rifle designed by the world famous and well known horst Balser.